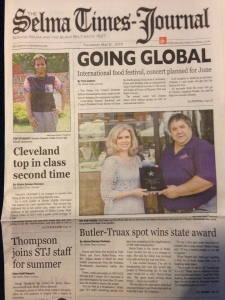 ALEX-FM's own Todd Prater posing alongside Doris Butler-Truax with their award won for creating and producing the "Darla and Rupert" radio commercial. It was recently awarded to them at the Alabama Broadcasters Association's ABBY awards held in Birmingham. Way to go "Darla and Rupert"!
Current 12/2/16 WALX ELIMINATOR PRIZE LIST:
Listeners must listen for the que to call to eliminate a prize during Rick and Bubba, Todd's Show, and Paul Finebaum. Once 99 of the 100 prizes have been eliminated, all listeners who eliminated a prize will be qualified to win the last remaining prize. If a listener eliminates a prize pack that has already been eliminated they are disqualified so listeners must keep up with the current prize list which can been found here on Facebook and also in the Selma Sun.
1. I Got Game – An Xbox 360, a PlayStation 4, and a WII. $500 dollar gift card to a game store.
2. The White Glove –maid service for a year!
3. WCCS Pomp n Circumstance -- $2000 towards tuition in your child's name at Wallace State Community College Selma.
4. Really Roughing it – Tent, Colman stove and lantern, 2 sleeping bags and cots. Camp table and chairs and cook set and a box of matches. A months' worth of camping at Camp Grist Park (or an Alabama State Park of your choice)
6. Walkin In High Cotton – a year supply of tee shirts, socks and briefs or boxers but you have to choose briefs or boxers on the air!
7. Butler Truax Jeweler's Girls Best Friend -- $2000 14 ct diamond earrings.
8. The Green Green Grass of Home – years' worth of lawn care.
9. Sleepin' Soundly with Grays Furniture-- New Ashley bedroom set including bed, bed side table, chest of drawers, and two nice lamps.
10. Siskel n Ebert – $2000 worth of movie tickets to Walton theatre or a theatre of your choice.
11. Tool Time – $2000 dollar shopping spree at tool store.
14. The Iron Bowl – tickets to the 2017 Alabama Auburn game, tailgating supplies and gas money to go!
15. Dave's Market Day – $200 dollars worth of groceries per month for ten months.
17. Top the Tank n Add a Quart – $1000 worth of gasoline and $1000 worth of oil changes.
19. Party On Dudes! – a party for 100 of your closest friends with music and a light show by Paul's Porta-Party DJ Entertainment!
20. The Santa Clause -- $2000 worth of toys delivered to your house for Christmas.
21. Hear Come Da Judge! -- $2000 to pay your legal fees, or to bail you out of jail if need be.
22. BOOGITY, BOOGITY, BOOGITY! (Lets go racin boys!) --Tickets for up to six in the grand stand at Talladega for the spring or fall weekend of racing. Campsite for that weekend.
23. The Checkered Flag -- 20 laps around Talladega Super Speedway in a real race car with the NASCAR Racing Experience, Gas money to get there and money for souvenirs and mementos.
24. The Brenda Adams -- an introductory secretarial class, instruction to broadcast traffic departments, computer training, and a year supply of post it notes and pens.
25. Paddle Faster! – a canoe with paddles and life jackets, list of popular canoe trips in Alabama, lessons on canoe safety, a banjo, and a copy of Deliverance.
26. Grass n Go – New lawn mower, edger, leaf blower.
28. Couch Potato - new Recliner, $500 worth of DVD's, new DVD/ Blue Ray player, new flat screen TV, popcorn
29. Summer Rental – Weekend at a hotel on Pensacola's emerald coast money for gas and a night out at a seafood restaurant. And a copy of the movie Summer Rental, in case of rain…
31. The Pool Shark -- a pool table and full set of cues.
32. The Man Cave – 50 inch TV, DVD/Blue Ray player, recliner, Pool Table, Kegerator.
33. GH Parts Tractors are COOL-- 4 Large Yeti Coolers for the back of your hoe.
34. The Primos Grille Pack from Central Alabama Farmer's Coop-- Extra Large Primos Grille, Custom Cooking Table, 5 Bags of Charcoal.
35. The Musician -- $2000 store credit toward band equipment at a music store.
36. The Thrill of the Hunt -- $1000 worth of hunting accessories, $1000 toward membership to your favorite hunting club.
37. It's Time -- $2000 watch.
38. Guest DJ – Cohost Sunrise over Selma with Todd Prater. Cohost the mid-day show on WALX also with Todd Prater.
40. The Spring Break You Never Had-- 2 Funnels, a week's stay at a beach hotel with an average nightly stay less than $50, two beer steins, and hangover relief. You may want to bring your own sheets!
41. Our House is a Very Very Fine House -- Up to $2000 dollars payment on your next mortgage payment.
42. The Philanthropist – $2000 worth of food donated In your name to the Selma Food Bank.
44. Tunes to Go – new stereo system for your car installed.
45. Ad Nauseum -- $2000 ad campaign for your business on the Scott Communications big three stations, KIX 101.5, 100.9 ALEX-FM and 96.3 JAM!
46. PEZ -- $2000 worth of PEZ and dispensers.
47. The OJ -- $2000 worth of LEGALLY obtained sports memorabilia to put in your collection.
48. The Safford Sporting Goods Meat Master – A big Green Egg grill and accessories, and $1000 worth of meat to grill!
50. Field of Dreams – We have a baseball diamond built in your back yard.
51. Horsin'round -- $1000 worth of feed or hay or boarding, $1000 worth of tack and farrier service.
52. My Baby Daddy -- $2000 to the court towards your child support.
53. Local Boy Dun Good -- Trip to Cincinnati to see Michael Johnson play with the Bengals, Autographed picture, Meet n greet with photo ops, Lunch with Michael n friends!
54. The Todd Prater -- project classic VW bug (you fix it), a camp site and camping gear at the 2017 Tannehill VolksJam VW Show August 25th and 26th. Todd's 20 favorite country and classic rock songs loaded on your music player.
55. The Caitlyn -- $2000 towards interior decorating including a new closet from which you may or may not emerge.
56. the Elimination -- $1000 worth of plumbing and septic service, $1000 worth of toilet paper, box of EX LAX
57. Home Improvement -- $2000 worth of new addition or improvements to you house.
58. Gus Colvin State Farm Don't gamble with your insurance -- Trip for two to Las Vegas staying 3 nights on the strip.
59. On The Road Again -- $1500 towards a vehicle of your choice and a selection of Willie Nelson albums.
60. It's a Small World After all – trip to Disney World.
62. Ridin on the City of New Orleans – train trip to New Orleans and back.
63. The Scott Alexander -- Fender Stratocaster guitar, Guitar lessons for a year, Eagles DVD / CD collection, old radio station equipment.
64. AC/DC $1500 worth of electrical work and a Discography of AC/DC albums.
65. Mixed Emotion – $1500 to your shrink and $500 spending spree to where ever it will make you feel good to blow the money!
66. The Griswold – Weekend trip for the family to Alabama Splash Adventure Park, shopping spree at the Galleria.
69. Thorsby's Garrison Farm Center's Hunter's Dream Package--
2 Orca coolers-20 qt & 58qt, 2 Orca Chaser's, 2 Moultrie Feeder's, 2000lbs of corn, Big Buddy Mr Heater, 12pk of propane cylinders, Charbroil Grill w/full propane cylinder.
70. Rock n Roll All Night – Three day pass and three days shuttle at the Hangout Festival, in Gulf Shores. Tickets to Toadlick festival in Dothan, Two tickets to Bayfest in Mobile.
71. Two Tickets to Paradise – A cruise for two on the Caribbean sea and a collection of Eddie Money albums.
72. The Minnow Bucket Firearm Fanatic--in store credit of $2000 towards any items in the Autaugaville store.
74. Dinner and a movie – One Saturday night a month for a year you and your significant other have a night out just the two of you!
75. Fancher Fabrication Warm or Dry--$2000 towards HVAC service, OR new roof for your house.
76. Dr. Doolittle -- $500 worth of pet care, $500 pet accessories. $500 worth of boarding, $500 worth of pet food.
77. Sumpthin 'bout a Pick up Man – brush guard, running boards, and in bed tool box.
79. The Stop n Go -- One year of Inspection, tune up, brake job, oil change service, transmission service, radiator flush, and wash.
80. The Clanton Tractor Kubota Kick Start-- $2000 in store credit to use toward your next Kubota Tractor.
81. The Shane Duncan-- All of your archery equipment tuned up by Shane. Plus donuts and coffee.
82. The Local Yokel-- Tickets to all of these events in Selma: The Bridge Crossing Jubilee, Alabama River Chili Cook Off, Low Country Crawfish Boil, Wild Game cook off, Rockin Rib off and Mayor's Ball.
83. Laissez Les Bons Temps Rouler-- Celebrate Mardi Gras with 2 Nights at the Royal Sonesta Hotel on Bourbon Street. Breakfast at Cafe' Du Monde, and a trip to the Aquarium of the Americas.
84. Tom Joyner -- trip for two to the TJMS Family Reunion.
85. The River Rat -- 2 person john boat, Life jackets, 2 rods and reels with tackle.
86. The Kitchen Sink -- new fridge, dish washer, oven / stove and sink with disposal.
87. The Ball n Chain -- A Bridal set (engagement and wedding rings), Wedding Dress, reception for 100 guests.
88. Hardening of the Arteries -- Years worth of fast food at the greasy spoon of your choice.
89. Preacher Man / Dr. Feelgood -- Selection of Gospel CD's, Trip to see the Georgia Mass Choir, Guest DJ spot on Jammin for Jesus and you get to choose your favorite songs to play.
90. Found On Road Dead -- A project 1968 Ford F-100 pickup. $1000 toward restoration.
91. Francesco Bernoulli-- VIP package for two to the Honda Alabama Grand Prix at Barber Motorsports Park. Admission to the Barber Motorsports Museum. Spending Money.
92. Tuner Chevrolet John Taccone Car Special-- $2000 off any vehicle on the lot at Turner Chevrolet where you can't walk away from a Turner Deal.
93. Across the Pond--round trip air fare to London to have lunch (in the airport) then come back.
96. The James Hardy--Tickets to all the Morgan Academy home games and programs from the games autographed by on air play by play talent James Hardy. A guest appearance as the color commentator during Morgan Homecoming game. A radio to tune in to the away games.
97. The Redneck Rivera--two nights in a hotel in Gulf Shores AL and spending money.
99. The Rock and Roll -- Flagstone patio or side walk and years supply of yeast rolls.
100. The WALX HD Radio Upgrade-- Brand new HD radios including one for your den, car, and office. ALEX-FM and KIX Country in HD free for life. ...
100.9 is Reporting from Jordan Hare Stadium for a 3pm Kickoff for Maplesville Vs Pickens County. Paul and Shane here interviewing Coach Hubbert before the action starts. ...